Combative Concepts Academy of Martial Arts 
 1211 KENNEDY RD, 2ND FLOOR.  SCARBOROUGH. ONT.  M1P 2L2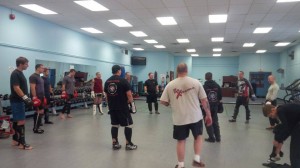 Picture of Combative Concepts Seminar for military  @ Camp Trenton.
" PROMOTING MARTIAL ARTS IN TORONTO, MARKHAM, PICKERING & RICHMOND HILL FOR OVER 10 YEARS ! "  
 Combative Concepts Academy Of Martial Arts is an organization devoted to the teaching and perpetuation of  Jeet Kune Do & Filipino Martial Arts for reality based training/self-defence.  We also offer training and friendly competition in Combat Sports such as M.M.A, Kickboxing, Boxing and Grappling/Jiu Jitsu.  Classes are are taught in a positive, safe and friendly environment. Martial arts is our vehicle for the promotion of good health, fitness, self defence, sport and overall personal well being.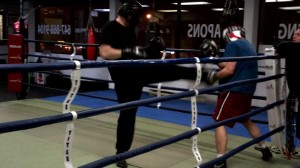 The training at Combative Concepts A.M.A. satisfies all of the appeals that martial arts has to offer. People train in martial arts for various reasons. Some individuals like the fitness and attribute development and want a effective means of defending themselves in today's society.  Others need it for occupational purposes such as our military, law enforcement, security personnel, bouncers, body guards, etc….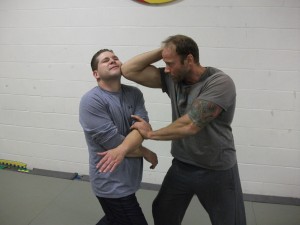 Some individuals may be interested in combat sports and want to test their skills in competition while others simply enjoy training and expressing themselves in the development of mind, body and spirit as a complete martial artist. No matter what you wish to gain from training in martial arts, Combative Concepts looks to satisfy your goals through world class training! Our goal is simple, GETTING RESULTS no matter who comes through the door. The training is tailor made to the practitioner and individuals are constantly challenged to implement and accomplish personal goals. Total balance in combat efficiency and conditioning is what you will achieve from training in our classes. Our unique coaching promotes self-discovery, self-discipline and ultimately the self-confidence needed to act effectively not only in combat but in life as well.
The training at Combative Concepts A.M.A. is a team effort. After working with the group, individuals quickly relate to the positive atmosphere and friendly nature in which practitioners help each other to reach their fullest potential! The overall work ethic becomes contagious. A sense of trust, mutual respect and teamwork is developed leading to a family like atmosphere!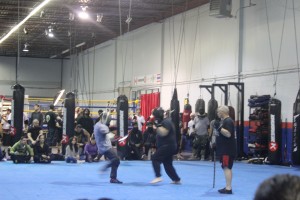 We have beginner, intermediate, and advanced level classes which do not discriminate against gender, skill level or martial art background. Private/group private instruction and seminars are available by appointment. Also available by appointment are Tactical Military, Law Enforcement and Security specific Defensive Combative Training.
Combative Concepts A.M.A promotes friendly competition through the participation in combat sports. We offer an outlet to a variety of competitive venues. If desired, individuals can compete in M.M.A. (mixed martial arts), Kickboxing (Muay Thai / K-1), Grappling and Jiu-jitsu competitions, Amateur/Pro Boxing and Full Contact Weapons tournaments. We are a certified Canadian Amateur Boxing, Kickboxing and M.M.A Gym. Combative Concepts is honored to be affiliated with the Canadian Jeet Kune Do family, Jeet Kune Do Fighting Arts, Progressive Fighting Systems, Kabayama Bushidokan, C.A.S.K. (Council of Amateur Sport Kickboxing), Boxing Ontario, W-1 Mixed Martial Arts promotions and the Canadian Savate Federation.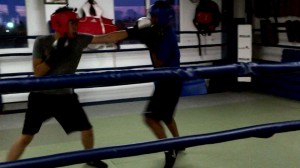 Testimonial : "Hi Steve, i wanted to share some of my thoughts and experiences with you and those that might read this. I have been in the martial arts game a long time….. 20 yrs plus.  I have had many different experiences and have never loved anything more than Jeet Kune Do, and the concepts it promotes.  In saying that, I feel that  though you and I come from very similar backgrounds you have managed through hard work, sacrifice and an unwavering desire to get better to become one of the greatest teachers / martial artists I have ever had the pleasure to know and train with.  You are flat out awesome and I'm blessed to have the opportunity to continue my journey towards perfection with guys like you, Palmer, Pete, Ian, and all the other guys we trained with. Keep up the great work of inspiring and believing in others and        " walk on " my friend….. " – Richard Marin – JKD Instructor and 10 + year member of the Canadian Armed Forces.