Boxing class in action of group warm up rounds before partner drills – 2014
Boxing in Toronto's east end, Scarborough! Our class brings all the great fundamentals and conditioning of boxing, with modern and traditional training approaches! Training methods are influenced from a variety of sources and put together in a very efficient program for developing all rounded and conditioned boxers. We take pride in our safe, high level training program that is geared to getting fast results and continual improvement.
Boxing is an international sport offering competition at Amateur, Olympic and Professional levels. It's an excellent means for personal fitness and overall well being. Guaranteed to work up a good sweat and have fun doing it!!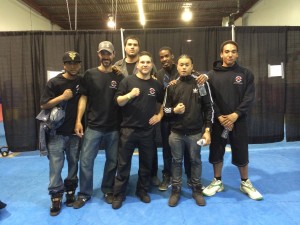 Group picture of Combative Concepts Boxing team after Fighter Justin Gandoza's victory – 2014
WHAT YOU WILL GET OUT OF OUR BOXING PROGRAM :
• Professional instruction by qualified coaches in a safe and friendly environment!
• Access to top quality training aids and equipment!
• How to properly maintain a comfortable balanced stance and have fluid footwork!
• Have a structured defense you can depend upon!
• Develop powerful, fast punches and combinations!
• Build outstanding physical conditioning and cardio!
• Develop positive work ethic, self-confidence and discipline!
• A road for competition to those interested in testing their skills!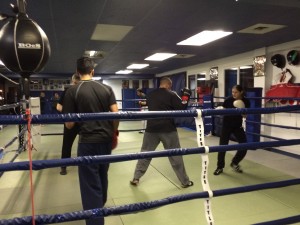 Boxing Class in action doing partner drills. –  2013
We are a certified registered boxing gym in affiliation with Boxing Ontario who is the main sanctioning body for Amateur Boxing in Ontario.  Our classes are structured for the amateur competitor or people just looking to stay in shape and enjoy the sport of boxing!  Try a free week of classes as a no obligation trial !