Welcome to COMBATIVE CONCEPTS ACADEMY OF MARTIAL ARTS in Scarborough!  We offer world class martial arts training in JEET KUNE DO, M.M.A. (Mixed Martial Arts), KICKBOXING (Muay Thai / Savate / J.K.D / K-1), BOXING, GRAPPLING (Submission Wrestling / No-Gi Brazilian Jiu Jitsu) & WEAPONS / FILIPINO MARTIAL ARTS. We have been serving the city of TORONTO and surrounding communities of SCARBOROUGH, NORTH YORK, RICHMOND HILL, MARKHAM and PICKERING for over 10 years with our unique approach to martial arts training.
——————————————————————————————————————–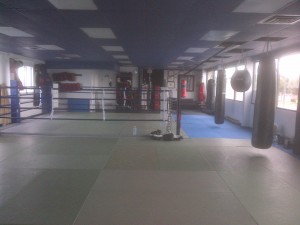 Our goal is to deliver the best instruction available in all of our programs in a fun, safe and friendly environment dedicated to getting results!  If your looking for self-defence, competition, fitness, self-discipline, weight loss, self-confidence, respect and overall personal well being then you have found the right place!
We have adult co-ed classes and kids classes offered at recreational and competitive levels!  We also offer Private/Semi Private Instruction, Seminars, Personal Training, Military Combative Training and Law Enforcement/Security Combative Training. Please have a look around our site for more information on classes and schedule.  If you have any questions, please do not hesitate to contact us and we will be happy to answer all of your inquiries.   Thank you for stopping by!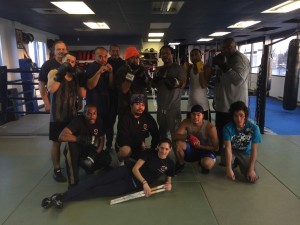 Group Picture – "2014"
 —————————————————–
TESTIMONIAL :
" In the 20+ years of martial arts training that has covered 11 cities, 4 countries and countless hours, I have had some great instructors and training partners.  Steve has a passion for both practicing martial arts and teaching them that rises above the norm.  When you train with Steve you will always walk away a better martial artist and person. There may be 10 + people in the class but each will tell you that it was like having a private class tailored to each of them.  He will instruct, challenge and guide you on the martial path.  Training with him in general will make you a better overall person…  The way that the classes are laid out, a person has no choice but to improve. There is thought and planning in each and every class. Combative Concepts is a real diamond in the rough, if you are in the Toronto area and want to train with a world class coach and fighter, look him up.  You will not be disappointed! Walk on……….."          ( Andrew Palmer – Corporal From The Canadian Military. )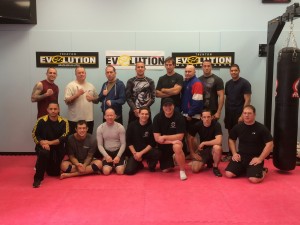 Combative Concepts Camp Trenton Seminar  
Group Photo – 2015
 CALL OR EMAIL TO BOOK YOUR NO OBLIGATION, FREE TRIAL WEEK OF UNLIMITED CLASSES !!